GIF Photo Booth Dallas
Luxe Booth's GIF photo booth is a modern twist on the traditional photo booth. It allows guests to take a short video or series of photos and then combines them into a looping or boomerang animation, which is saved as a GIF file. This allows guests to capture a unique and dynamic memory of the event that they can easily share on social media.
Some features of a GIF photo booth include:
Customizable backgrounds and borders to match the theme of the event
The ability to add text or branding to the GIF
The ability to share the GIFs on social media platforms like Instagram, Facebook, and Twitter
The ability to print physical copies of the GIFs as well
A GIF photo booth is a great addition to any Dallas event because it provides guests with a fun and interactive way to take photos and create memories.
The GIF BOOTH
Our GIF photo booth sets itself apart, offering the ability to create a looping or boomerang animation of your favorite pictures. And with customizable options like personalized backgrounds, borders, and more, your creation will be a unique expression of your personality and style.
Turn memories into motion with our GIF photo booth
Check Availability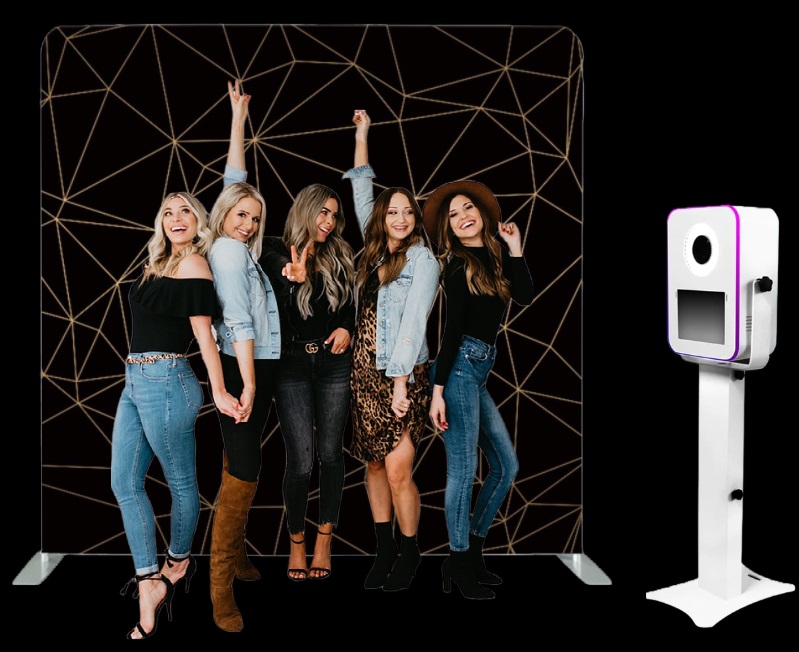 Unmatched GIF quality in Dallas
Our GIF photo booth is a great way to add a unique and interactive element to any event. It's perfect for parties, weddings, corporate events, and more. Guests can take silly, candid, or posed photos, and then share them on social media or text them to their friends and family.
With the ability to customize the backgrounds, borders, and more, our GIF photo booth can be tailored to fit the theme of your event perfectly. So why settle for a boring old photo booth when you can have a GIF photo booth that will make your event stand out?
Too many vendors stick with the basic tent and cloth booths. That's not who you are and it's now how you want to be remembered.
Our GIF photo booth also can be used as a marketing tool for businesses and brands. By adding custom branding, logos or text to the GIF, it can be used as a way to promote a product or event.
Overall, a GIF photo booth is a fun, interactive and engaging way to capture memories and promote your brand or event. Whether you're planning a wedding, corporate event, or party, a GIF photo booth is sure to be a hit with guests of all ages.
How to get in touch with us:
Luxe Booth | Photo Booth Rental
Dallas, TX
Direct: (469) 935-4449
Serving Dallas since 2009
Looking for a different photo booth rental package?
View our other options below.