GIF Photo Booth Rental San Diego
Ready to move beyond the typical, dull photo booth experience? Elevate your event with Luxe Booth of San Diego – the pinnacle of stylish and professional photo booth services. Our GIF booth surpasses the ordinary, enabling you to craft a loop or boomerang of your treasured images, transforming them into a distinctive and sharable GIF. With options to personalize backgrounds, borders, and more, you'll have a truly original creation that stands out.
Our cutting-edge technology and exceptional services distinguish us from the rest. So, bid farewell to basic and embrace the extraordinary with Luxe Booth – the premier choice for photo booth luxury.
San Diego GIF Photo BOOTH
Our innovative GIF photo booth stands out, allowing you to create looping or boomerang animations of your cherished pictures. With customization options like tailored backgrounds, borders, and more, your creation will be a genuine expression of your taste and style.
Turn memories into motion with our San Diego GIF photo booth
Check Availability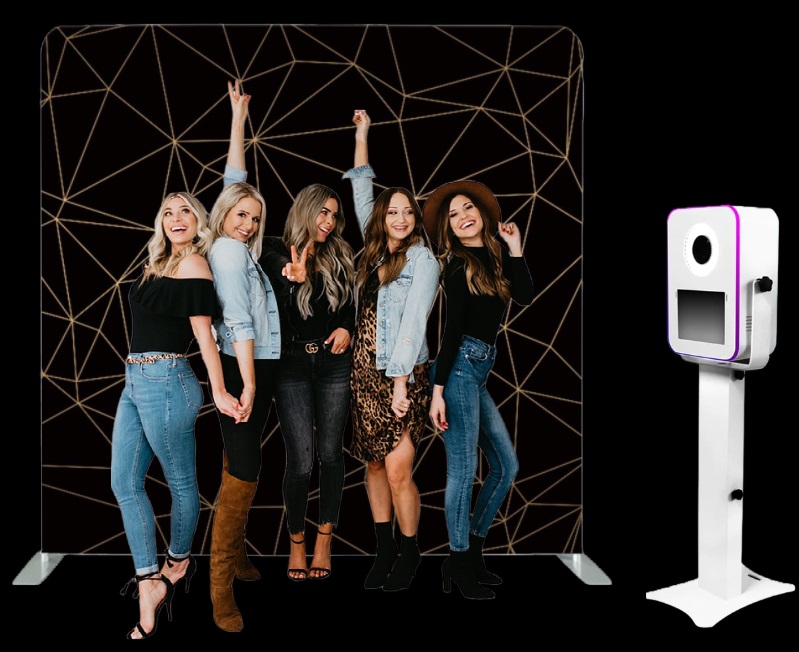 The Boomerang GIF
Boomerang GIFs are a unique form of animation that captures a moment in a looping effect. The video plays forwards then backwards, crafting a seamless and engaging depiction of the instant.
The Loop GIF
Loop your favorite video or images for a continuous, animated GIF. Visualize your GIF booth animations as mini time capsules of your unforgettable moments that you can treasure forever.
Still not understanding the GIF?
GIFs, or Graphics Interchange Format, have evolved significantly since their modest beginnings in the 90s. Once limited to low-quality, blinking graphics on websites, they now play a vital role in the photo booth industry, offering endless amusement and laughter through brief, looping video clips.
At Luxe Booth Photo Booth Rental San Diego, we provide a range of GIF booth options to accommodate your needs. Our GIFs can be fully tailored with your design for corporate and branded events.
Whether you're organizing a wedding, party, or corporate event, a GIF booth is an ideal addition to inject fun and interactivity into your occasion. Guests can capture memorable photos and instantly turn them into a shareable GIF, enhancing the experience even further. So, why wait? Embrace the GIF trend and add some humor and dynamism to your next event.
Unmatched GIF Photo Booth quality in San Diego
Add a touch of prestige and professionalism to your next event. 
Too many vendors stick with the basic tent and cloth booths. That's not who you are and it's now how you want to be remembered.
How to get in touch with us:
Luxe Booth | Photo Booth Rental San Diego
Serving San Diego since 2009
(619) 923-4023
Ready to choose your options?
Looking for a different photo booth rental package?
View our other options below.