AVERAGE PHOTO BOOTH RENTAL PRICE AT LUXE BOOTH
Ready to add some pizzazz to your party? Look no further than Luxe Booth! Our photo booth rental prices vary depending on factors like location, rental length, and type of booth. For a mid-week, standard rental, you're looking at starting around $429 for two hours. But if you're looking for something fancier and more customizable, we've got options that'll set you back $4,000 or more.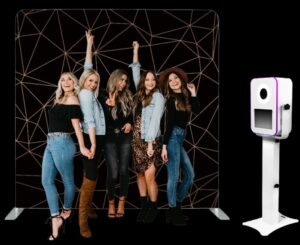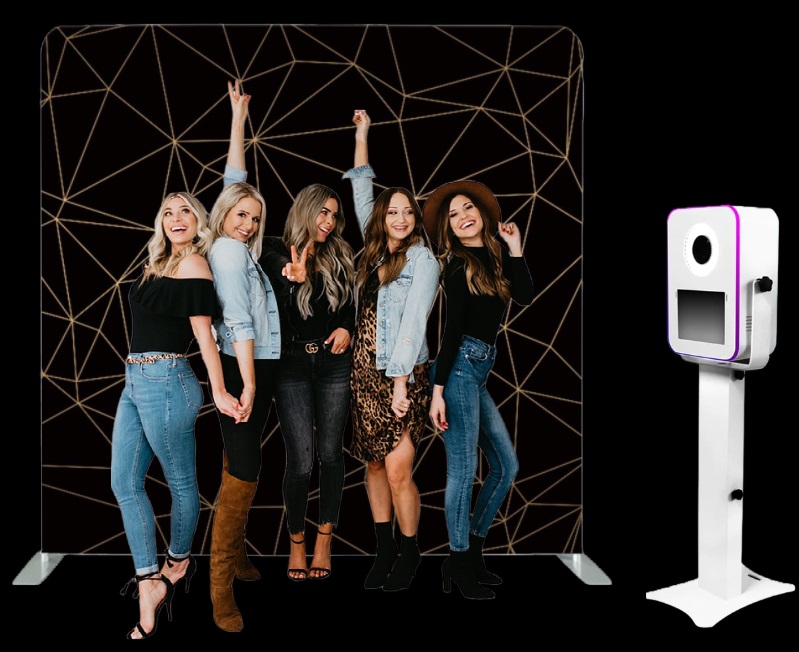 VARIETY OF PRICING OPTIONS
But wait, there's more! Our photo booth rentals are designed to give your guests a fun and interactive way to capture memories they can cherish forever. And we get it, every event is unique, so we offer a variety of pricing options to fit your needs and budget.
Open-air photo booth: No cramped spaces here! With an open-air booth, your guests can control when the photos are taken using a camera on a tripod or table.
Old-school photo booth: Take it back to the classic photo booth experience. Squeeze into a booth with your buds, strike a pose, and wait for a printout of your hilarious pics.
Slow-motion video booth: Make a statement with this option, which offers slow-mo videos that will be the envy of all your friends on social media.
GIF-maker photo booth: Bring your memes to life! This booth will create animated GIFs featuring your guests that will keep the laughs going long after the wedding is over.
Flip book photo booth: For those with a soft spot for nostalgia, these booths snap a series of photos that are transformed into a cool flip book that serves as a unique and fun favor.
360-degree photo booth: Step up your photo game with a multi-camera photo booth that captures every angle of your guests' stunning looks.
Green screen photo booth: Change up your backdrop with a green screen booth that allows your guests to select from a variety of fun and funny backgrounds to truly personalize their pics. So many options, so little time!
Black and White Glam Booth: Our B&W booth is a trend that's always in style and here to stay. It's no surprise that celebs and influencers alike are jumping on board, and we're not ones to miss out on the fun!
TRAVEL PRICES
We know location can be a big factor, so we won't charge you extra for setup or travel. But if your event is in a remote location, give us a shout and we'll work out a solution for you.
DO WE OFFER CHEAP PHOTO BOOTH RENTAL OPTIONS?
You might be wondering, "Do they have any cheap options?" Well, we understand that everyone's idea of "expensive" is different, so we offer rental packages to suit any budget. Whether you're planning an intimate get-together or a full-blown celebration, we've got you covered.
Well, if you want your event to be boring and your guests to leave early, then don't rent a photo booth, LOL. No, seriously, is this even a question? You absolutely need to have a photo booth at your party.
Sure, you can do your own photo booth. Be prepared for your guests to make fun and laugh at your expense. You're throwing a party, splurge and spend some money to entertain your guests, they'll truly appreciate you for it.
ADDITIONAL SERVICES AND PRICING
For those extra-special occasions, like weddings, we've got a photo booth package that includes a professional photographer. Your guests will be snapping up professional-quality photos that'll be cherished for years to come.
We're committed to making sure your event is unforgettable, so we're more than happy to create a custom package that works for you. Contact us today to get a quote and book your photo booth rental. Let's get this party started!
Locations
Luxe Booth offers photo booth rentals from Orange County, CA to Austin, TX and all the way to NYC. We currently service more than 20 locations across the country.