Imagine the laughter, joy, and unforgettable memories a wedding photo booth rental can bring to your wedding day! In this guide, we'll help you navigate the exciting world of wedding photo booths and make the best choices for your special day. Get ready to capture the magic!
Short Summary
Create unforgettable memories with a wedding photo booth rental!

Enjoy endless customization options and exciting features like social media integration, live photo streams & more!

Maximize the experience by choosing fun props, setting up open/closed times & encouraging guest participation.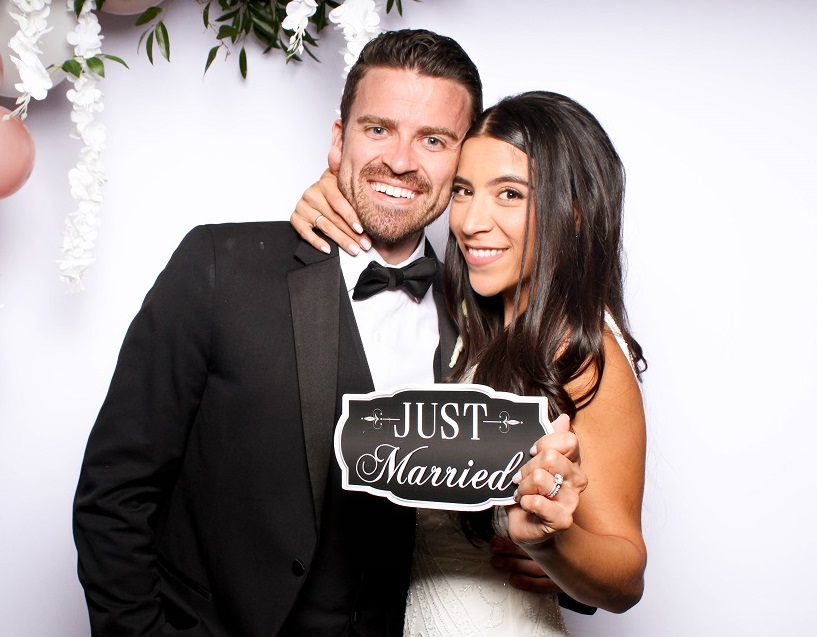 Benefits of a Wedding Photo Booth
A wedding photo booth is more than just a fun activity; it's a way to enhance the entire celebration. From creating an interactive experience for your guests to offering unforgettable keepsakes, there are plenty of reasons why photo booths have become a must-have at weddings.
Not only do photo booths provide a unique way to capture memories, but they also add a touch of fun and excitement to the event. Guests can take silly pictures, dress up in props, and more.
Enhanced Guest Experience
Photo booths are a fantastic way to break the ice and get your guests mingling during the wedding reception. They provide an alternative source of entertainment for those who may not be keen on dancing, allowing everyone to join in the fun.
With a photo booth, your guests can create lasting memories and share all the excitement of your special day.
Memorable Keepsakes
A picture is worth a thousand words, and a wedding photo booth is the perfect way to capture those priceless memories. Guests can take home instant prints or digital images as unique souvenirs, creating a tangible reminder of your special day.
From photo strips to fridge magnets, the possibilities are endless. And with a variety of personalized keepsakes available, your guests will cherish these mementos for years to come.
Customization Opportunities
No two weddings are the same, and your photo booth should reflect your unique style and theme. Exciting customization options allow you to create a photo booth experience that is distinctly yours. From vintage camper vans to stunning magic mirrors, the possibilities are endless.
You can even customize your photo strips with your names or wedding logo, adding a personal touch to every snapshot. So get creative and bring your vision to life!
Choosing the Right Wedding Photo Booth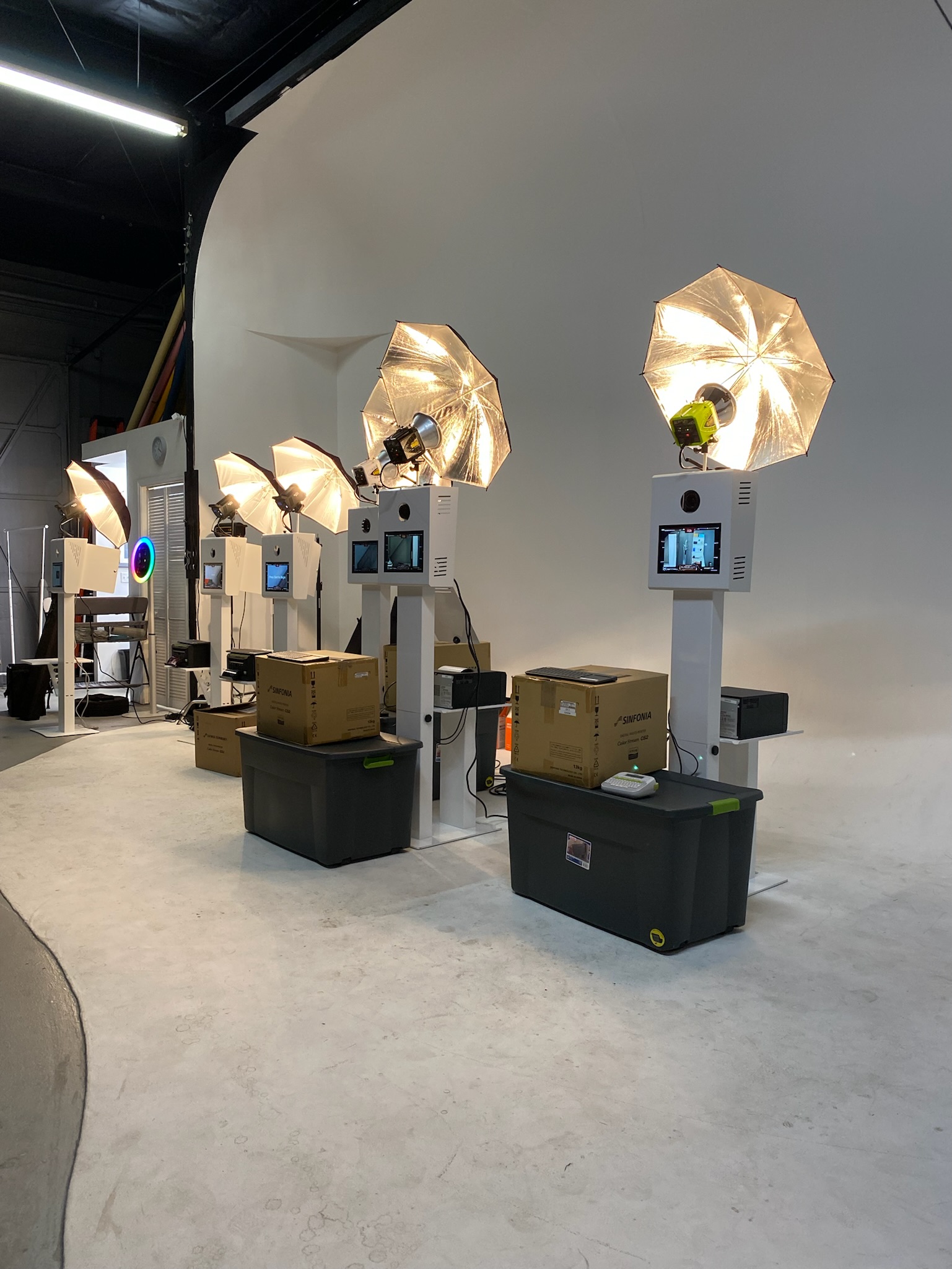 With so many options available, how do you choose the perfect photo booth for your wedding? There are several factors to consider, such as whether to go for a DIY or professional rental, the features you desire, and your budget.
In the following sections, we'll guide you through these important considerations to help you make the best decision for your big day.
DIY vs. Professional Rental
One of the first decisions to make is whether to set up a DIY photo booth or hire a professional rental service. A DIY option like Simple Booth can save you money and offers a user-friendly experience, allowing you to choose the number of photos in each strip and create gifs or standard photos. However, there is a cost involved, as Simple Booth charges around $29 for 30 days of unlimited use.
On the other hand, a professional photo booth rental service provides a wide range of options and features, such as custom backdrops and experienced staff to help set up and run the booth. This option may be more expensive, but it can also provide a higher-quality experience for your guests.
Ultimately, you'll need to weigh the pros and cons to decide which option is best for your wedding.
Available Features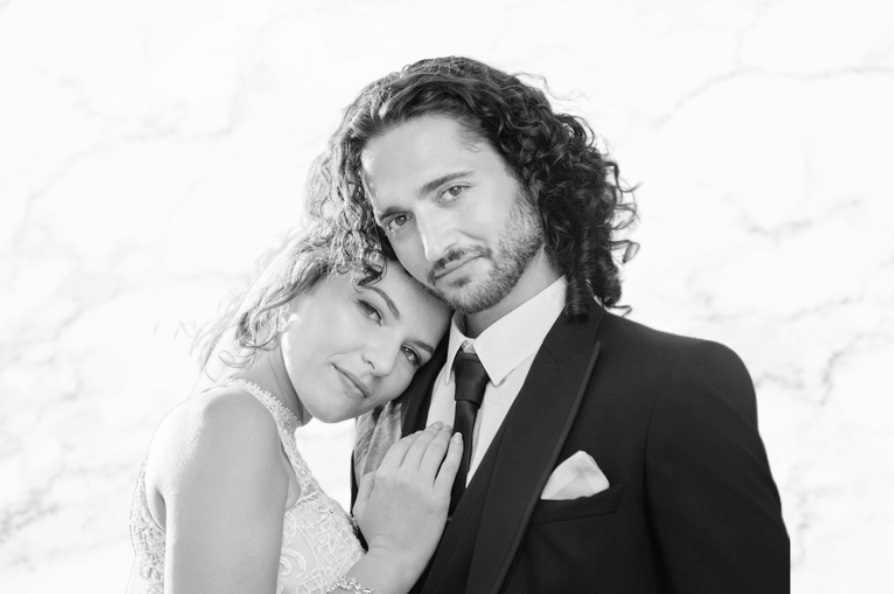 When choosing a wedding photo booth, it's essential to consider the features you desire. Look for options like a variety of props, customizable backdrops, social media integration, and live photo streams. These features can help enhance the guest experience and ensure that your photo booth is a hit at your wedding.
In addition to the standard features, you may also want to consider unique options, such as green screen technology, which allows guests to choose their own background, or touch screen photo booths for a more interactive experience. The more features you include, the more fun and memorable your photo booth will be.
Budget Considerations
Budget is an important factor when choosing a wedding photo booth. The typical cost of a photo booth rental ranges from $400 to $1200, with an average cost of $700-$900 for a 4-hour rental. Keep in mind that the cost may vary depending on the location and type of photo booth you choose.
When setting your budget, don't forget to consider any additional costs, such as setup fees, delivery charges, and extra services like custom backdrops or props. Be sure to factor in all of these expenses to ensure that your photo booth fits within your overall wedding budget.
Top Wedding Photo Booth Rental Options
Whether you're looking for a nationwide vendor, a local boutique experience, or a unique and creative alternative, there's a photo booth out there that's perfect for your special day.
Nationwide Photo Booth Rentals:
Nationwide rentals offer a wide range of choices and customizable options, making it easy to find the perfect photo booth for your wedding, no matter where you are. Companies like Luxebooth.com have a strong presence across the country, offering photo booth rentals in Atlanta, Austin, Chicago, Dallas, Houston, NYC, Orange County, Orlando, and San Diego. With a nationwide footprint, you're likely to find a photo booth rental near you.
Enjoy benefits such as a comprehensive selection of props and backdrops, as well as experienced staff who can help you set up and run the booth. This option is perfect for couples who want a professional, hassle-free photo booth experience.
Local Photo Booth Rental Vendors:
For couples based in specific areas, Luxebooth.com also caters to local demands. Offering photo booth rental in Atlanta, a wedding booth setup can add some Georgia charm to your special day. If you're looking for a photo booth rental in NYC, the luxebooth.com team is well-versed in delivering unforgettable experiences amidst the Big Apple's hustle and bustle.
In Austin, Chicago, Dallas, and Houston, the team's strong local knowledge allows us to seamlessly integrate into your wedding plans. Looking for a photo booth rental in sunny California? Orange County is where luxebooth.com originated, bringing chic style and superior service to the West Coast.
In Orlando and San Diego, luxebooth.com continues to elevate wedding experiences, offering top-tier photo booth rentals in these vibrant locations.
Local vendors often have a deep understanding of the area and can recommend the perfect photo booth setup and location for your wedding. Plus, they can provide unique and creative options that are specific to your region, providing a one-of-a-kind photo booth experience for your guests.
Choosing Luxebooth.com, whether through nationwide or local services, ensures that your wedding will have a seamless and memorable photo booth experience, leaving you and your guests with delightful keepsakes from your special day.
Unique and Creative Alternatives
If you're looking for something out of the ordinary, consider unique and creative alternatives to traditional photo booths. Options like vintage camper vans, magic mirrors, inflatable photo booths, and retro-rickshaws can provide a fun and unexpected twist to your wedding photo booth experience.
These creative alternatives can add a touch of whimsy and personality to your wedding, ensuring that your photo booth is truly one of a kind. So get creative and explore the many unique and unexpected options available for your wedding photo booth!
Setting Up Your Wedding Photo Booth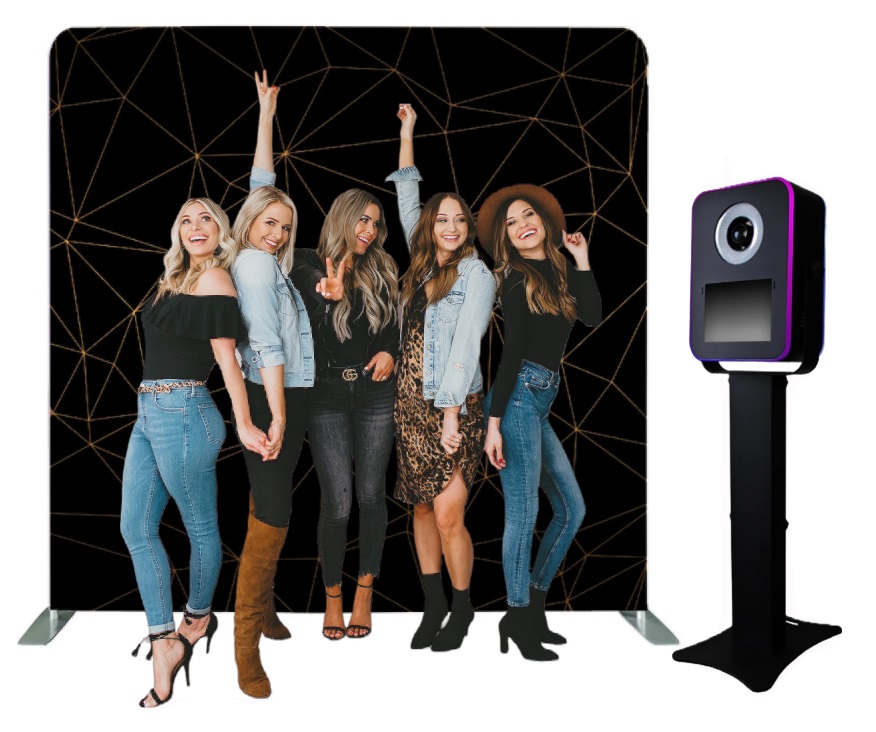 Once you've chosen the perfect photo booth for your wedding, it's time to set it up for success. This includes selecting the ideal location, ensuring accessibility for all guests, and providing a variety of props and backdrops.
Let's explore these important factors in more detail.
Location and Accessibility for the Photo Booth
The location of your photo booth plays a crucial role in its success. Choose a high-traffic area that is visible to guests, such as near the dance floor or bar, to ensure maximum participation. Also, make sure the photo booth is accessible to all guests, including those with mobility limitations.
Keep in mind that the location of your photo booth may vary depending on the venue and your preferences. So, work with your venue coordinator or photo booth vendor to identify the best spot for your photo booth, ensuring it's easily accessible and visible to all your guests.
Props and Backdrops
A great photo booth experience is all about the props and backdrops. Handpick props that will appeal to your guests and complement your wedding theme. From funny signs and hats to glamorous sunglasses and masks, the options are endless.
When it comes to backdrops, consider creating a custom photo booth backdrop that matches your wedding style. This can be as simple as using fabric or paper, or as elaborate as incorporating greenery, balloons, or other decorations. A well-designed backdrop can make your photo booth even more appealing, encouraging guests to join in the fun.
Encouraging Guest Participation
To ensure your photo booth is a hit, it's important to encourage guest participation. One way to draw attention to the booth is by using eye-catching signage or decorations that match your wedding style. Additionally, consider scheduling open and closed times for the photo booth to avoid interrupting special events.
Another effective way to encourage guests to use the photo booth is by having your DJ or emcee remind them of its availability throughout the event. This can help keep the photo booth at the forefront of guests' minds, ensuring that everyone gets a chance to join in the fun.
Maximizing Your Wedding Photo Booth Experience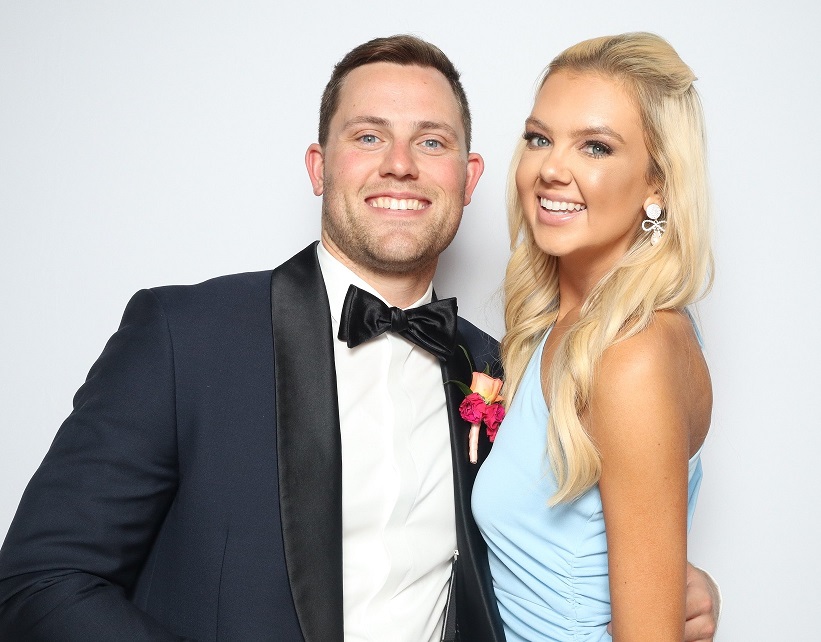 To make the most of your wedding photo booth experience, consider incorporating features such as social media integration, live photo streams, and scheduling open and closed times.
These elements can help enhance your guests' experience and create lasting memories of your special day.
Social Media Integration
By integrating social media into your photo booth, you can provide guests with an interactive experience that allows them to share their photos instantly online. This can increase the visibility of your event and create a buzz around your wedding.
Additionally, social media integration can help guests connect with each other and share their favorite moments from your special day. Some photo booth services even offer double-printing and personalized hashtag options, allowing guests to take home a physical copy of their photos while also sharing them online.
This can help create a memorable experience for your guests while maximizing the impact of your photo booth.
Live Photo Stream
A live photo stream is a great way to entertain your guests and showcase the fun happening at your photo booth. By projecting a live feed of the photos taken at the booth onto a big screen during the wedding reception, your guests can watch the action and enjoy the candid moments captured throughout the event.
Setting up a live photo stream is relatively simple, requiring only a projector or TV and a connection to the photo booth. This feature can help keep guests engaged and excited about the photo booth, ensuring that everyone has a chance to participate and create lasting memories.
Scheduling Open and Closed Times
Scheduling open and closed times for your photo booth can help ensure that it doesn't interrupt important moments during your wedding reception, such as speeches, toasts, or special dances. Coordinate with your DJ or emcee to remind guests of the best times to use the photo booth, such as during cocktail hour or after dinner.
By planning open and closed times for your photo booth, you can maintain a smooth flow of events during your wedding and ensure that your guests have ample opportunity to enjoy this fun and entertaining feature.
Summary
In conclusion, a wedding photo booth can bring endless fun and lasting memories to your special day. By considering factors such as rental options, features, budget, setup, and guest participation, you can create a photo booth experience that perfectly complements your wedding theme and style. So, start planning your dream photo booth today, and let the magic unfold!
Frequently Asked Questions
Is photo booth good idea for wedding?
A photo booth is a fantastic idea for a wedding – your guests can capture fun memories, share them right away, and you can look back and enjoy the images for years to come!
It's an exciting way to make sure that all the joy of your special day is documented.
How much is a photo booth in Austin, TX?
You won't have to break the bank to rent a photo booth in Austin – prices range from $795 to $1595, giving you plenty of options!
No matter your budget, you can find a photo booth rental that fits your needs. With a variety of packages and add-ons, you can customize your rental to make it perfect for your event.
Is a photobooth at a wedding worth it?
Having a photo booth for your wedding is an excellent way to capture and share special memories with your friends and family. Not only will it provide fun entertainment for your guests, but you'll also have a timeless set of photos capturing their laughter and happiness.
It's definitely worth adding a photobooth to your wedding!
Luxebooth.com offers photo booth rental services in multiple locations NATIONWIDE.
MINNEAPOLIS, NYC, Orange County,
Orlando, PHILADELPHIA AND San Diego